Riflemen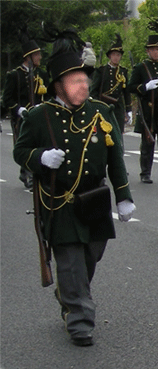 The uniform consists of:
- A cloth tunic and green ("spinach green "), straight collar, notched on front. The tunic is long enough to stop above knee. The collar, epaulettes, and cuffs are lined a braid Daffodil 5 mm.
- Pants fabric gray ("Belgian Grey ") decorated all the way up the outer seams of the legs of a braid Daffodil 5mm.
- A hat of black felt truncated form, height of the form more or less than 14 cm, the edges have a width of 5 cm. The left edge is rolled up against the form which is attached to a tricolor using a button in ormolu. The hat is also decorated with a black plume bronzed chicken feathers drooping.
- A "fourragère" consisting of a double round cord 8 mm, length plus or minus 2 yards supporting two mirrors and two tassels, all Color Daffodil.
- A black leather belt (white for the clique) closure at the front in a plate decorated with ormolu a lion's head.
- For riflemen, a cartridge in black leather, rode the belt.
- For drums ("clique"), a white leather belt.
- White cloth gloves, white shirt, black tie, socks black and black shoes.
Distinctive insignia of rank:
- Corporal, has two stripes wool daffodil with a width of 20 mm, placed on the forearm of each arm parallel to siding peak and one to the other, a distance between the siding and the trim below 3 mm, same between the two stripes. These stripes are framed in a red braid and have their lower ends fixed in the sleeves.
- The first soldier, wearing a lace like the lower Corporal and only on the left sleeve.
Page up